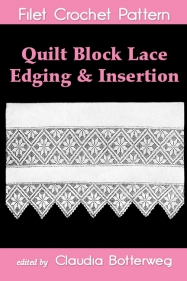 This design is very attractive and versatile. In fine thread, the lace and insertion will be a very pretty trim for skirts, slips or other similar garments, and a yoke is easily arranged to match. Heavier thread makes a handsome stripe, with lace border, for a bedspread. A scarf or or table runner may have the lace and insertion across the ends, or there may be a width of insertion running lengthwise, with lace at each end, or two lengths of insertion with a strip of hemstitched linen between and the border of lace. Originally designed by Jennie Stenfort in 1927.
This is not your usual scanned vintage crochet pattern. To make this pattern great for today's crocheter I wrote complete instructions, expanded the written instructions so you won't need to skip around, and made an easy to follow chart. I also changed the written instructions to use modern US crochet terms.
The only stitches you need to know to complete this lace are: chain stitch, single crochet, double crochet, and slip stitch.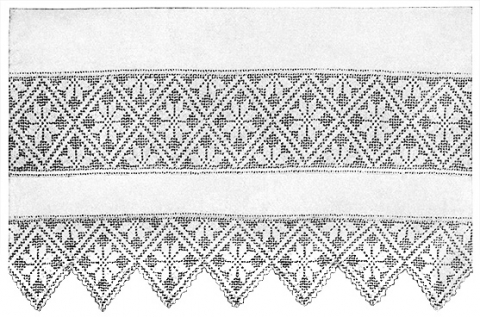 Retail pricing is $5.99 for Paperback and $0.99 for Digital Editions
This pattern is available in several formats:
Paperback and Kindle versions available at Amazon