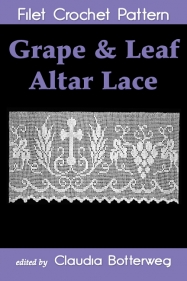 Grape & Leaf Altar Lace Filet Crochet Pattern is a beautiful filet crochet lace pattern, originally written by Minnie Hoffinger in 1920. Symbols of communion, graceful wheat motifs and grape vines surround a cross in the center. A wave-like pattern and simple scallops at the bottom complete the lace.

This is not your usual scanned vintage crochet pattern! To make this pattern great for today's crocheter, I wrote complete instructions and made an easy to follow chart. Minnie's pattern was not quite symmetrical and a bit cryptic, so I fixed that. I also changed the written instructions to use modern US crochet terms.

The only stitches you need to know to complete this lace are: chain stitch, double crochet, treble crochet, and slip stitch. This lace pattern's rows are done top to bottom. The simple scallops on the bottom are made by decreasing at the beginning of odd rows and increasing at the end of even rows.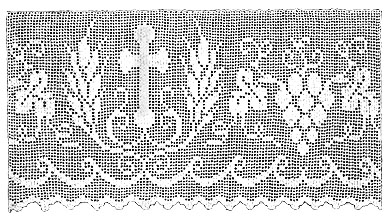 Retail pricing is $5.99 for Paperback and  Digital Editions.
This pattern is available in several formats:
Paperback and Kindle versions available at Amazon