Free Diagonal Scrollwork Pattern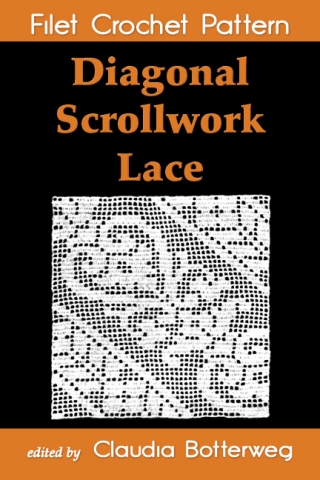 This pattern is only available through my newsletter. You can sign up to recieve the newsletter in your inbox here: http://claudiabotterweg.com/newsletter-get-free-patterns.
Designed as an all-over pattern for a bedspread by E.J. Hunt in 1917, the bedspread is made by crocheting long strips and then sewing the strips together. Instructions are given for continuing the pattern beyond the first 50 rows, but those rows will require a little brainwork. [Editor's note: I tried to make a bigger chart, both longways and sideways, but I couldn't get it to match up in both directions. If you are going to make a bedspread as E.J. Hunt suggests, the strips may not match up exactly.]
This is not your usual scanned vintage crochet pattern. To make this pattern great for today's crocheter I wrote complete instructions, expanded the written instructions so you won't need to skip around, and made an easy to follow chart. I also changed the written instructions to use modern US crochet terms.
The only stitches you need to know to complete this lace are: chain stitch and double crochet.